Dr. Yen researched the use of phages as an intervention for cholera during her thesis work in the Camilli Lab at Tufts University, resulting in publications in Nature Communications and eLife. As a biological engineering undergraduate at MIT, she trained with Professors David Schauer and Darrell Irvine and researched oral vaccine delivery. Passionate about developing innovative solutions for infectious diseases, Dr. Yen was awarded the Howard Hughes Medical Institute MERGE-ID fellowship, which focused on translating bench science to clinical applications, for her graduate education. During her thesis research, Dr. Yen has traveled to Haiti to study the cholera epidemic, where she witnessed the need for innovative healthcare solutions. She also served as the U.S. representative in the Young Leaders Circle for three years as a part of American Society of Microbiology's initiative to address the needs of international early-stage scientists. Dr. Yen is currently a Master's in Public Health candidate at Boston University, with a focus in global health and program management.
Dr. Camilli is a Professor in the Department of Molecular Biology & Microbiology at Tufts University and an investigator with Howard Hughes Medical Institute (HHMI). He trained with two leaders in the field of microbiology: Daniel Portnoy at the UPenn School of Medicine and John Mekalanos at Harvard Medical School. With over 20 years of experience, Dr. Camilli is an internationally recognized leader in the field of microbiology, whose research centers on two major human pathogens, Vibrio cholerae, the causative agent of cholera, and Streptococcus pneumoniae, a major cause of bacterial pneumonia. He has published 116 peer-reviewed papers and 23 reviews and book chapters, including papers in Nature, Cell, Science, eLife, PNAS, and many top journals in the field of microbiology such as Nature Microbiology and PLoS Pathogens. He has five US patents awarded and three applications filed. He has been continuously funded by NIH since 1996 and by HHMI since 2005. He has received several prestigious honors and awards, including a Pew Scholar Award, Eli Lilly and Company Research Award, and Election to the American Academy of Microbiology. He currently is a member of the Microbiology and Infectious Diseases Review Committee at NIH/NIAID.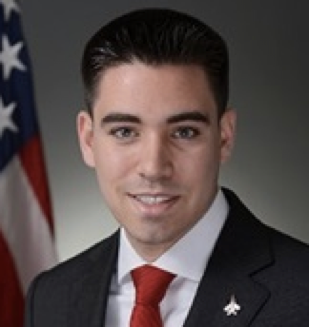 Matthew Merighi is Founding CEO and Executive Director of Blue Water Metrics, a non-profit which creates and organizes ocean health data for scientists and maritime industries. He is a graduate of the Fletcher School at Tufts University's Master of Arts in Law and Diplomacy program, studying entrepreneurship and maritime affairs. Before attending the Fletcher School, Matthew worked numerous portfolios in the Office of the Undersecretary of the Air Force for International Affairs (SAF/IA) at the Pentagon, including as a Country Director in the Europe/NATO Division, the Executive Officer for the Regional Affairs Directorate, and the Tradeshow Director for the Deputy Undersecretary. Matthew also serves as the Assistant Director of the Fletcher School's Maritime Studies Program where he creates new programming, produces research on maritime security, and conducts fundraising.